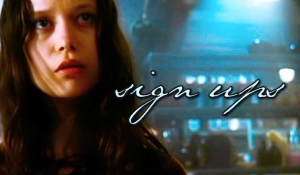 SIGN-UPS ROUND EIGHT

Sign ups are: CLOSED



+ Read the rules before signing up.
+ Each claim can only be claimed once, per round.
* Follow the SPECIFIC claiming rules for this round below, please.
+ All icons must be new/made specifically for this community.
+ Claims can be fractionally different (ex: BTVS vs BTVS Season Three)
+ Please only sign up if you plan to follow through.
+ All participants must vote.
+ All questions and suggestions are welcome.
+ Sign up with the sign-up form only.
+ Sign Ups are limited to 30.
+ You are allowed to change your claim up to the day before it is due.
+ Claiming is different this round, it is themed. Please follow the claiming guidelines below:

CLAIMING: For this round you are limited to claims from:
JOSS WHEDON OTHER. This means that you are allowed to claim only from:
Buffy the Vampire Slayer (the MOVIE), Toy Story (full movie claim), Dr. Horrible*, Serenity, Cabin in the Woods, The Avengers (full movie claim), Thor (full movie claim), Glee/Episode "Dream On", The Office/Episodes "Branch Wars" and "Business School", Douglas/Veronica Mars/Episode Rat Saw Good.**
A character, episode, movie or pairing can only be claimed once.

*Dr. Horrible has 3 acts, just to remind you - you could claim an act.
**You are NOT allowed to claim from BTVS, ATS, Firefly, or Dollhouse.
I hope this round gets players, if not, we'll move on.

Sign-Up Form:


Participants/Claims:
1.
iconsoleander/Penny(Dr. Horrible)
2.
agirlnamedtruth/Dr. Horrible(character)
3.
tempertemper/Zoe Washburne(Serenity)
4.
spikesredqueen/Buffy Summers(Buffy The Vampire Slayer Movie)
5.
starry_night/Dr. Horrible Act 3(Dr. Horrible)
6.
rua1412/The Avengers(movie)
7.
serialbathera/The Cabin in the Woods(movie)
8.
oh_cheezit/Toy Story(movie)
9.
misse/Serenity(movie)
10.
xclaire_delunex/Buffy the Vampire Slayer(movie)
11.
raktajinos/Thor(movie)
12.
13.
14.
15.
16.
17.
18.
19.
20.
21.
22.
23.
24.
25.




11/30
Closed.